This is the first time that Vietnam Helicopters  assign 2 helicopters to particularly serve in the tourism field. The helicopter used is the Airbus Helicopters EC130-T2 manufactured in 2014-2015 in France. One is placed in Nuoc Man Heliport (Da Nang) and the other is in Gia Lam Heliport – Hanoi.
In Da Nang, openning since April, the company offers the following services:
Da Nang City Helitour: Tourist are taken from Nuoc Man Heliport to explore Da Nang from above in 12-15 minutes.  Price: 150 USD/pax (Summer Promotion: 125 USD/pax).
Charter on Route: Offers chartered flight from Da Nang to nearby attractions, such as Hoi An Old Town; My Son Sanctuary; Hue city; Phong Nha, En and Paradise Cave (Quang Binh).
Charter on Demand: Other customized services are also suggested. For example: Corporate Charter, EMS, Parachute Dropping, Heli-lunch,…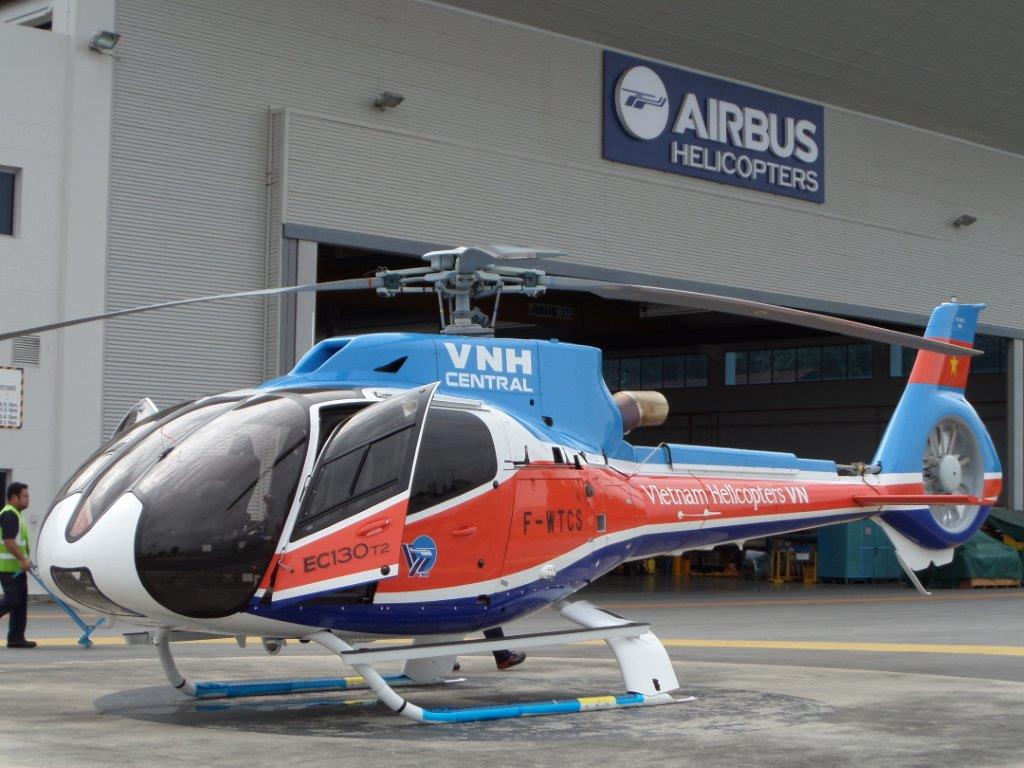 In Hanoi, EC130-T2 is located at VNH North's Gia Lam Heliport (a subsidiary of Vietnam Helicopter Corporation). Services includes:
Round trip to Ha Long Bay: 3.600 – 3.950 USD, flight time: 90 minutes
Round trip to Mai Chau: 3.500 – 3.820 USD, flight time: 80 minute
Round trip to Sa Pa: 8.400 – 9.240 USD, flight time: 3h 30 minute
In the future, Vietnam Helicopters will continute investing in more helicopters in other tourist attractions in Vietnam such as: Ha Long Bay, Phu Quoc island, Nha Trang, Quang Binh. The service is an attractive and luxurious activity that will be a highlight in Vietnam tourism, and will contribute to enrich tourism products and services that has long been lacking in this beatiful country.
More information on EC130 T2 and Vietnam Helicopters' service:
1. In the Central region: http://vnhc.com.vn/ or http://tourtructhang.vn/
2. In the North region: http://vnhn.com.vn/ or http://klf.vn/